The World's First Super Tourer: The Aston Martin DB12
Seven years ago we were graced with a new benchmark in the uber GT sector and an undeniably brilliant machine; the Aston Martin DB11. It superseded the DB9 and its been such a successful product for Aston Martin - we love them here at Premier GT. It was released in 2016 and took the brand in a new direction with heaps of them sold in its lifetime.

Fast forward to now however and the brand have announced a new successor to that already brilliant machine. Enter the almighty, 80% new, 680hp DB12. Aptly described by Aston Martin as 'the world's first super tourer' it brings excellence, refinement, and tactile performance in spades.
It's instantly recognisable as a new machine from the first moment you lay eyes on it. Wider, more aggressive and with way more presence than the more elegant predecessor, the DB12s aesthetic accentuates the notion of menace, magnificence, and outright beauty perfectly. There's a striking new face to the car but the most important changes for this super GT have been focussed on performance.
The powerplant is one of the key features that has been addressed and refined to within an inch of its life. The base unit is a Mercedes-sourced 4.0L twin-turbo V8, but there's modified cam profiles, an 8.6.1 compression ratio, larger turbos and improved cooling that results in a peak output power of a staggering 671BHP with peak torque coming out at 590lb ft. It seriously packs a punch and allows this epic looking car to hit a claimed top speed of 202mph, and with a 0-60mph time of 3.5 seconds! Those keen to read more about a V12 unit coming later may be disappointed – its unlikely we will see one in this car.
Getting into the nitty gritty of achieving ultimate performance, the DB12 is paired to an eight speed automatic gearbox which drives solely the rear wheels via a Carbon Fibre prop shaft and a new electronic differential. That improved cooling system is home to two auxiliary coolers fitted around the central radiator, with a low temperature radiator also installed to the charge cooler water circuit. Its as light and as cool as it can be and should keep churning dynamic drives tenfold.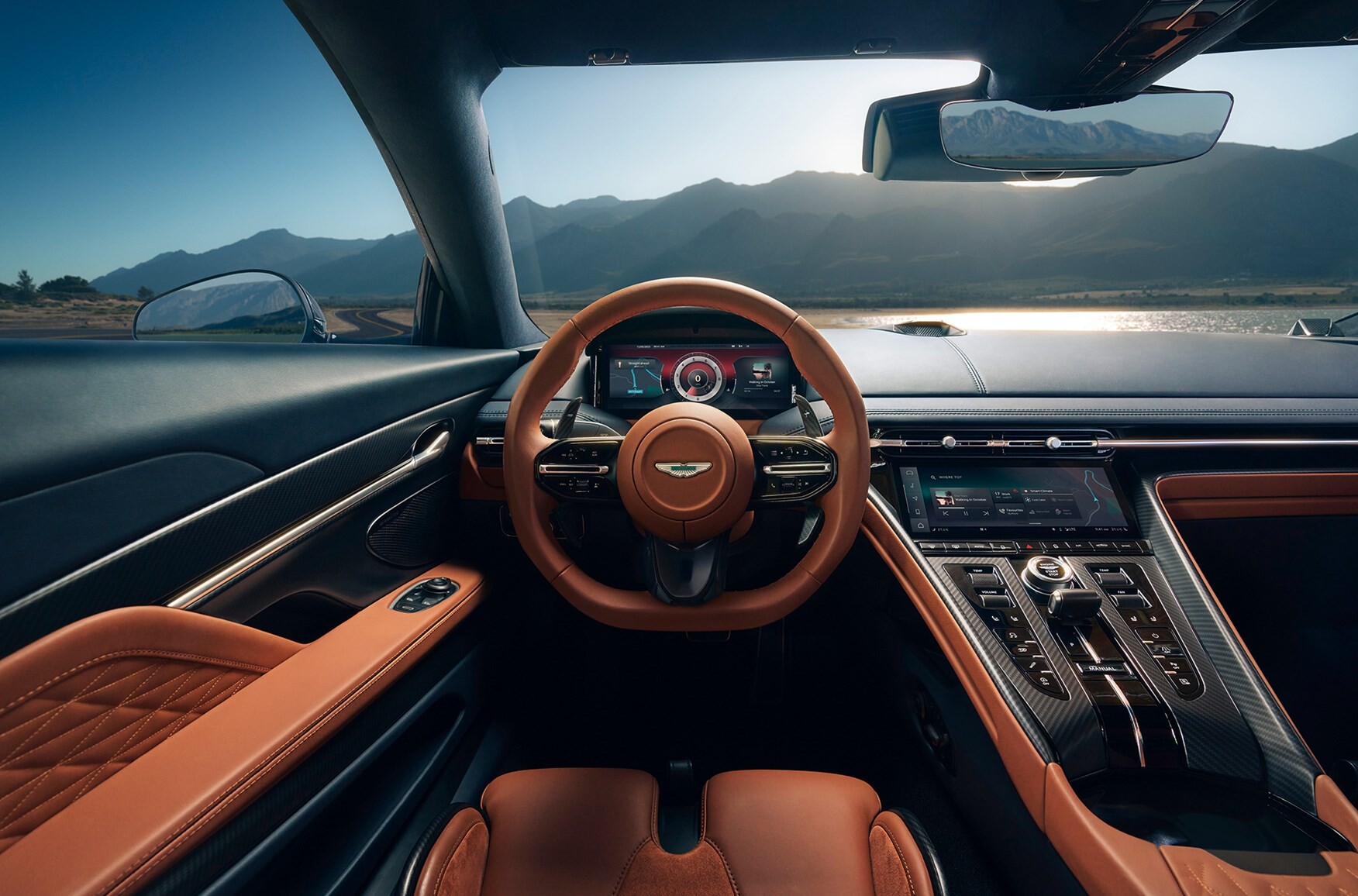 Over and above how this DB12 claims to perform is just how much it has been improved on the inside. There are very few elements that have been carried over from the DB11s cabin or borrowed from newer Mercedes machines. There is still a Mercedes-Steering wheel present, but there's an all-new, Aston-Martin-developed infotainment system that brings wireless Apple CarPlay, a touch screen display system and bespoke screen graphics too.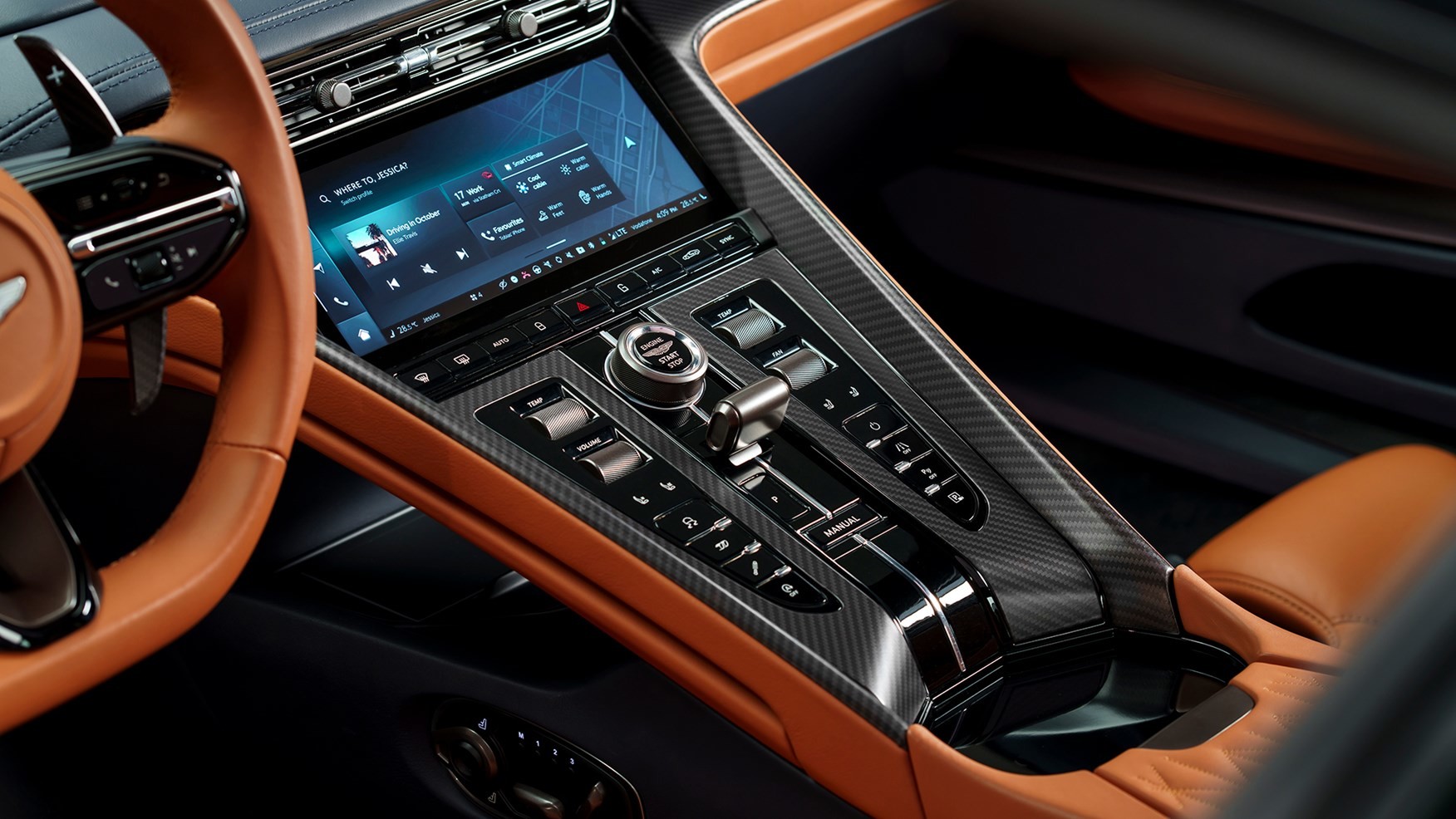 In typical Aston Martin fashion though, the cabin blends luxury and performance inspired elements perfectly. The switchgear is newer and more receptive to the touch and everything is laid out logically, carefully considered and inspiringly indulgent. The new relationship with Bowers & Wilkins may be the icing on the cake inside too as an optional-fit, 15 speaker system will now be on offer.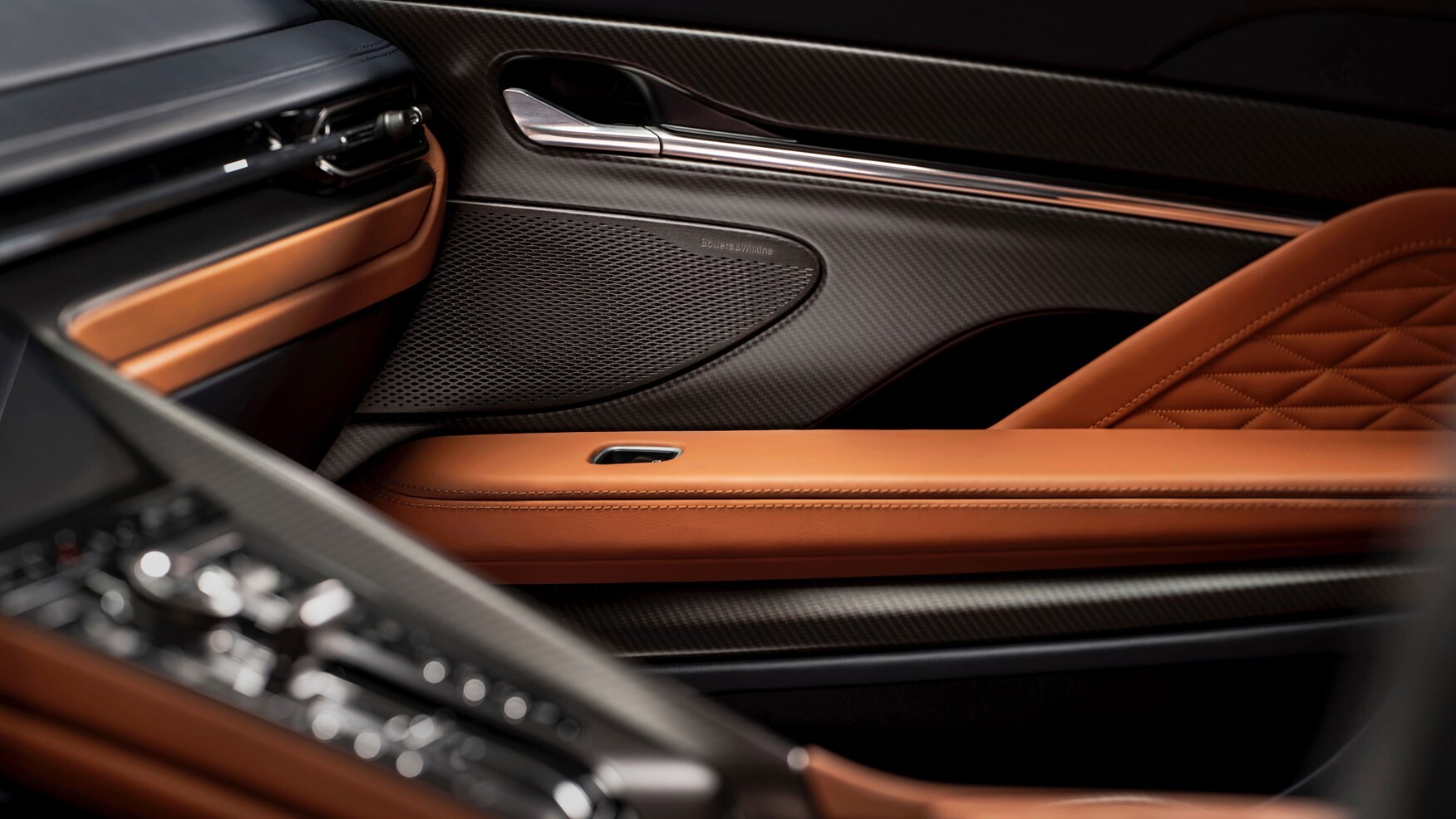 Its clear that Aston Martin have a new sense of quality direction instilled into the DB12 and have produced what can only be described as the perfect evolution of the GT car over its predecessor. We are keen to see one in the flesh, with first cars expected to arrive to new customers in the third quarter of this year, with a base price starting at £185,000. Tick away on the options list and no doubt it will be considerably more…